Chesson Hadley is sneakily becoming one of the funniest guys on the PGA Tour.
During PGA Championship week last year, The Tonight Show's Jimmy Fallon handed out PGA Tour Superlatives. You can see the video below.
RELATED: Players Championship leaderboard | Auclair's 5 to watch | Mother's Day gifts
Hadley was a part of the piece: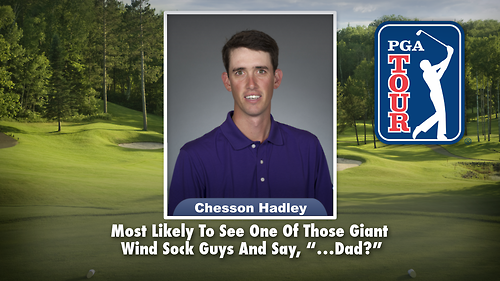 Showing he has a sense of humor, Hadley later tweeted this response:
Well played, no doubt.
On Wednesday at the Players Championship, Hadley decided to pull a prank (if you want to call it that) on two-time Masters champ Bubba Watson.
Hadley, disguised as a ridiculously giddy fan with his hat turned backwards at TPC Sawgrass, stood along the ropes as Watson was walking past and begging for an autograph. Like many, Hadley scored Watson's John Hancock:
The best part of the video was the fact that Watson never looked up and had no idea it was Hadley.
Also, I love the text in the tweet about how disappointed he is to be playing for a $10 million purse this week in which the winner scores a cool $1.8 million.
If the golf career doesn't work out for Hadley (it will), you might one day be seeing him in a comedy club near you.