As I'm prone to do during a late-night feeding for my 1-year-old son, I had the iPhone in hand last night scrolling through my Facebook timeline, while he sucked down a bottle while rocking in my lap.
As I was perusing, an old high school friend had a post linking to a golf blog that had an embedded video for the "HammerX" -- a driver put out by "6-time World Long-Drive Champion and Master Engineer Jack 'The Hammer' Hamm."
RELATED: What's the best golf commercial you've ever seen?
The photo on the post features Hamm, golf shirt completely unbuttoned, rocking a gold chain and a blonde mullet -- he looks like a blonde David Hasselhoff. As my friend noted on his post, "Marketing Brilliance!!"
See what I mean?: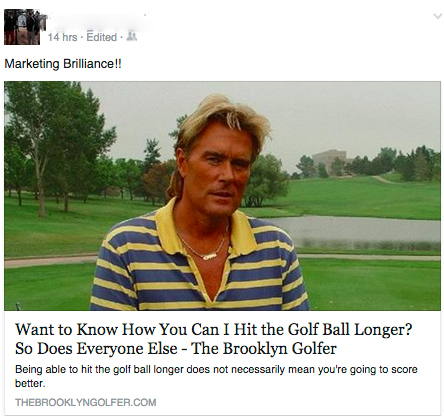 Anyway... back to the video on the post.
Check it out here:
Could you even imagine playing with a guy screaming, "POW!" or "WHAM!" after hitting tee shots?
Seems like that would be an awesome strategy to apply this week in the WGC-Cadillac Match Play Championship.
I'm not proud to admit this, but when I was much younger, I actually owned the original version of this driver, called, "The Air Hammer." It whistled when you swung it, which was great for some laughs with playing partners.
The promise of adding 50 yards to my tee shot? That didn't really pan out and none of my drives found their way piercing through the sky alongside a rocket like in the video.
Darn.
So, no, this video isn't new by any means, but I was reminded of just how hilarious it was last night.