Scott S. Mayer, PGA
Director of Instruction at Nonesuch River Golf Club
Main Address:
Nonesuch River Golf Club
Scarborough, ME 04074-9506
(207) 883-0007
Course:
304 Gorham Rd
Scarborough, ME 04074-9506

(207) 883-0007
Scott has been golfing for 38 years and teaching the game for 24 years. Scott graduated from the Professional Golf Management program of Ferris State University in 1990. He has been in the golf business for 26 years and has worked in all facets of the industry, specializing in teaching the game to all levels of golfers. Scott can currently be found at the Nonesuch River Golf Club in Scarborough Maine where he is the Director of Instruction, Owner and Operator of Mayer's School of Golf (2004-present). Scott has written two books and has an instructional DVD that can be found with lots of other personal instructional information on his website, www.handsoffgolf.com. Scott is one of the Co-Owners of the Portland Golf Expo, Portland Maine (2007-Present). Scott can be reached directly through email at scott@handsoffgolf.com.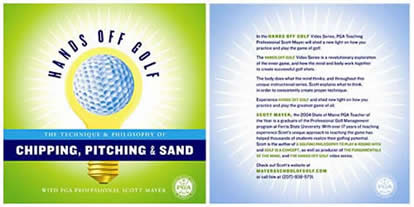 Services Offered:
Instruction
Play Golf of America Participant

Free Fitting Month

Welcome to Golf Month
National Awards
2010 PGA President's Council on Growing the Game
2008 PGA President's Council on Growing the Game
2006 PGA President's Council on Growing the Game
Recognition and Awards
2004 State of Maine PGA Teacher of the Year
2007 Bill Strausbaugh Award Winner, Ferris State University PGM Program
2009 State of Maine PGA Teacher of the Year
2009 Golf Digest, One of State of Maine's Top PGA Teachers
2010 Golf Digest, One of State of Maine's Top PGA Teachers
2011 Golf Digest, One of State of Maine's Top PGA Teachers