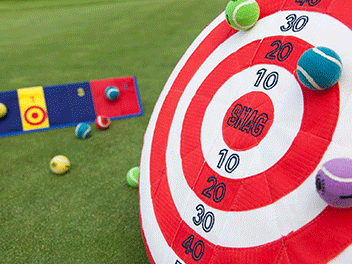 Junior Golf Camp (Ages 5-9) **4-DAY CAMP**
Golf Learning event for kids 5-9 years of age. This is great for beginners or those with minimal experience where we can learn a better understanding of the golf swing. Not only are you going to learn the basics of how to play the game, but we'll help you navigate through the things you will learn if you play the course.
Grip -- Stance -- Swing

Putting, Chipping, Pitching, and Full Swing

We use S.N.A.G. golf equipment (Starting New At Golf). This equipment utilizes heavy duty plastic clubs with mini tennis balls to keep players safe while learning the game of golf!!
What's Included
4 session Monday - Thursday starting at 8:00am

EQUIPMENT supplied, no need to bring clubs!!

Instruction from a PGA Coach

Time on the driving range, chipping/putting greens and a little time on the course!
Sign up today for your junior golfer, or share this camp with your friends and family, to take advantage of this fun, relaxing, and engaging group clinic format and create memories for a lifetime! Inclement Weather Policy
In the event of weather causing this event to be cancelled I will reach out to reschedule for makeup dates.
Refund & Cancellation Policy
For a full refund please cancel no later than 24 hours before.
If you cannot attend all days, please let me know and I can prorate your fee
---
Event Details
Starts on Mon, Jun 19 • 8:00 AM - 9:00 AM (CDT)
4 sessions
Mon, Jun 19 • 8:00 AM - 9:00 AM (CDT)
Tue, Jun 20 • 8:00 AM - 9:00 AM (CDT)
Wed, Jun 21 • 8:00 AM - 9:00 AM (CDT)
Thu, Jun 22 • 8:00 AM - 9:00 AM (CDT)
Registration closes on Monday, June 19 • 1:00 PM
Book this event
---
Event date
Starts Mon, Jun 19
8:00 AM - 9:00 AM (CDT)
4 sessions
Cost
$160.00
---
Location
The River Club Golf & Learning Center
Clarksville, TN
Event Host
Send a message