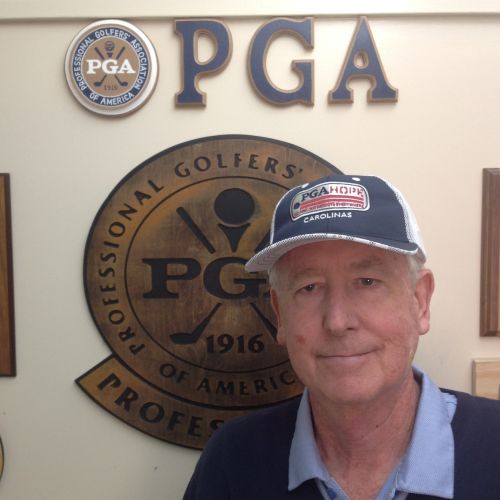 Davis W. DeRosa, PGA
PGA Professional
---
Legacy Golf Links in Aberdeen, NC, Aberdeen, NC
---
About Davis
Born and raised in New Jersey by a PGA Master Golf Professional, my Dad, and my mentor. As a second generation golf professional I was exposed to the game at a very young age. My father would take me with him after dinner when he had a scheduled lesson. My observations taught me how difficult it was to give a golf lesson. Dad was an optimist, always positive and supportive, often saying, to his student, "the next swing will be great"! In 1980 I became a PGA member. Over the years I have attended numerous teaching/coaching seminars to stay current with all different methodologies of instruction. The majority of my career was as a PGA Head Professional for 34 years at Lake Mohawk Golf Cub in Sparta, N.J. Upon my retirement from that position I was profoundly honored by the board of directors and members with the lifetime title of Pro Emeritus. I have resided in North Carolina for the last seven years and have every intention of staying here permanently. Recently I completed a program that certifies me as a PGA Coach in the ADM (American Development Model). I am amazed how much has changed since I began teaching. New methods in strength training and overall health. The word Coach is now the expression instead of instructor. Working with the student to develop their skills in a more helpful way. Being a coach is a more friendly method in interacting with the student. Additionally I have become involved with the PGA Hope Clinic. After attending a training seminar on how to coach and teach disabled veterans. I am one of the instructors at the PGA Hope Clinic at Longleaf Golf facility in Southern Pines and also at Methodist University in Fayetville. This is extremely rewarding to teach those that fought for our freedom, and enjoy the peace & serenity that goes along with the game of golf. One of the veterans mentioned that when he is on the golf course he never has a flashback from the war. The PDSD has affected a lot of these veterans but the game of golf and the new friendships developed has helped tremendously.
Have been in Pinehurst the last 7 years and have the pleasure of helping golfers young and old to enjoy the great game of golf. If you need help with any aspect of your game, please contact me so I can assist you in getting you to reach your potential.
Testimonal "Davis has been my golf coach and mentor for most all of my adult golfing life. His genuine interest in my golf game, positive attitude and continuous encouragement have greatly enhanced my enjoyment of golf. Davis' coaching focuses on building a solid foundation of fundamentals and matching his teaching techniques to each individual's physical abilities. His knowledge of the golf swing, accomplishments as an elite tournament player and his ability to communicate with clear and easy to understand swing thoughts enable students from juniors to seniors to play better golf." By Erich Mooradian, Sparta, NJ
Testimonial
Davis is the consummate professional. He cares about helping you realize your potential in golf, covering everything from swing technique to shot-making and strategy, depending on your needs. Recently, Davis taught me a method of hitting sand shots and lob wedges around the green, giving me the confidence and skill I needed. Since then I have had multiple "sandies" and up and downs around the greens to save par. By Glen Powell, Austin, Texas
---
Davis's Experience
Helping players achieve their goals.
---
Getting Started
Get comfortable for business golf
Avoid embarrassment on the first tee
---
Having More Fun
Connect with golfers of similar age
Have more fun on the course
Connect with golfers of similar skill
---
Improving Your Game
Make the high school golf team
Get swing diagnostic testing
Prepare for Tournament Golf
Earn a college golf scholarship
Students & Lessons
Coaching Services
Player Type
Playing with disabilities
Davis's Facilities
Legacy Golf Links in Aberdeen, NC
*Coaching available to public
Location
12615 N US Hwy 15-501, Aberdeen, NC 28315