quick coaching
PGA Coach Shares How Koepka's Athleticism Benefits His Golf Game
Brooks Koepka hits his tee shot on the 10th hole during the first round of the 102nd PGA Championship at TPC Harding Park on August 6, 2020 in San Francisco, California. Photo by Darren Carroll/PGA of America
Brooks Koepka has claimed back-to-back PGA Championships and he is on a mission for his third-straight Wanamaker Trophy after a strong opening round at TPC Harding Park.
Koepka posted a 4-under 66 in the first round of the 2020 PGA Championship and showed no signs of not continuing his dominant play in major championships.
We checked in with PGA Coach Brian Phelps before the championship to get his take on just what it is that makes Brooks so special and how he approaches his pupils as a golf coach.
Check out what Brian had to say about Koepka & then check out just how he utilizes his athleticism in the slow-mo video of his golf swing below.
As a coach I have always embraced an "athletes first" mentality, there are very few sports in this world that require early specialization, and golf is certainly not one of them. I still have the picture burned in my brain of Brooks doing leg day on the Sunday morning of the U.S. Open at Erin Hills. I can still remember thinking I had never seen a professional golfer doing that before, but the game has evolved. This game of skill is a lot easier when you hit the ball far. I would tell my everyday golfers that being athletic and having coordination is a basis of being a good golfer. If you have a problem throwing and catching a ball, it is just as essential for you to work on functional movement patterns and physical literacy just like you would practice chipping and putting. The ability to control your body will make golf easier and more fun for anyone who plays. - PGA Coach Brian Phelps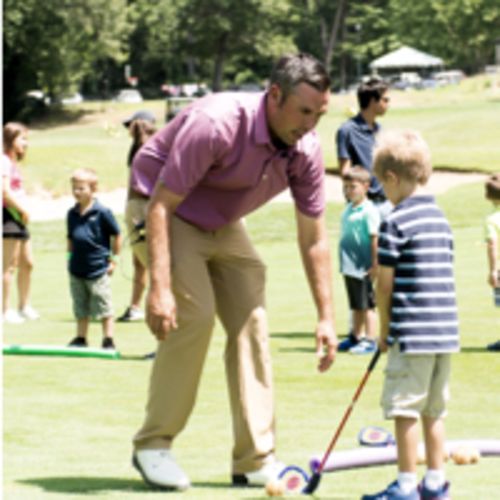 Brian W. Phelps, PGA
Member
---
Avon , CT
Brian Phelps grew up in Canton, CT and has a mother and father who were Physical Education Teachers and Coaches of multiple high school sports. Brian played baseball, wrestled, soccer and golf and was an All-State soccer player as a senior. As a young man Brian was introduced to golf at Canton Public Golf Course by a local legend Walter Lowell who was a pioneer in introducing juniors to the game of golf. Brian has decided to carry on the tradition of his parents and his roots of CPGC and specializes in introducing juniors to the game of golf by coaching kids using an athletes first mentality that will allow your junior to play golf for as long as possible with the most enjoyment possible.