quick coaching
X-Factor: Rory McIlroy's Rotation is Key to His Power
The Ocean Course at Kiawah Island will be the longest course ever contested in a major championship. So much has been made of the need for each player to maximize their distance off the tee. In 2012, Rory McIlroy drove past the field by eight shots with a simple secret that PGA Coach Jordan King Thomas shares with us in this video. 
Power isn't always about size. There are plenty of golfers on the PGA Tour who are bigger than McIlroy. What Rory accomplishes better than most is an amazing amount of torque in his backswing. As you listen and look at King Thomas' demonstration, you'll see how the relationship between lower body stability and shoulder turn really produces power.
We can all hit it further and to get the feeling all you'll need are two alignment sticks. You can instantly see and feel the difference. Follow along as Jordan succinctly shows us how to limit leg movement. Create some stability in the lower body and then try to turn those shoulders twice as much as the hips. This creates a tremendous amount of torque. The type of torque we will witness all weekend from each of the longest hitters like Rory.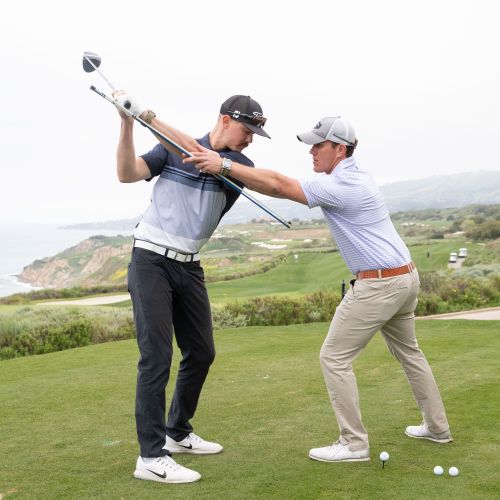 Jordan King Thomas, PGA
Member
---
Rancho Palos Verdes , CA
Born in Chapel Hill, NC Jordan was taught by his grandfather since age seven. His Grandpa King was a member of Medinah Country Club his whole life as well as his great grandfather. At the age of 22 Jordan got a job in the cart barn at Ko Olina Golf Club in Kapolei, HI. While there, he refined his skills by playing in every tournament possible where he was able to play competitively at a high level within the state. In 2008 Jordan assisted in the opening of the Ernie Els design Hoakalei Country Club in Ewa Beach, HI. While there he earned his Class A certification from the PGA of America working his way to the First Assistant and Lead Instructor. Following his passion, he accepted a job teaching for Jim McLean out of Trump National Doral in Miami, FL. After a few years with Jim McLean he moved to Southern California and helped Henry Brunton open and run his golf academy at Strawberry Farms Golf Club in Irvine, CA. Wanting to understand more about the idiosyncrasies of clubfitting he accepted a job with Club Champion as a Master Fitter and Master Builder. Through all of these experiences Jordan has been able to learn from some of the best in the business. Currently Jordan sits on the board of the Southern California Teaching Committee. Currently he is head of west coast operations and Director of Instruction for the Rick Smith Golf Academy at Trump National Los Angles. To learn more go to kingthomasgolf.com as well as ricksmithgpc.com