quick coaching
Bring the Golf Course to the Range for a Productive Practice
There is nothing more frustrating than being unable to translate the improvements you've made on the range to the golf course.
We've all be there. We hit the range for a practice session or before a round and everything is working. The driver is straight, the irons are flushed and we think we've finally figured it all out.
And then just like that, we snap hook one on the first tee and it's like we've never swung a golf club before.
There might be another way to think about the way you practice on the range and fortunately for you, PGA Coach Heather Angell — the Director of Instruction at Heritage Palms Golf & Country Club in Fort Myers, Florida — has a great way for you to bring the course to the range so you can take the range to the course.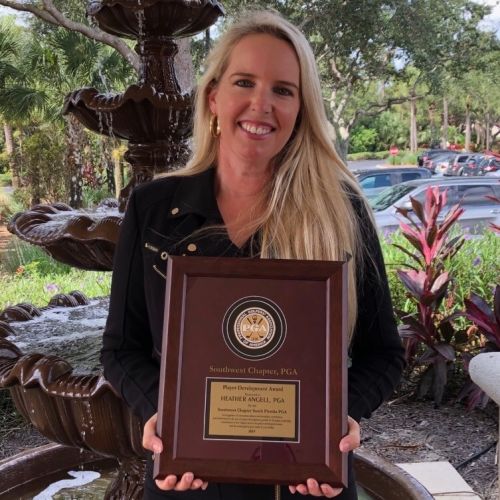 Heather Angell, PGA
Member
---
Fort Myers, FL
Heather is the Director of Instruction at Heritage Palms Golf and Country Club. She is available for individual and group instruction. A Class A PGA Certified Professional in Teaching/Coaching and Player Development, she has played professionally on the LPGA, Symetra, and Canadian Women's Tours. Accomplishments: 2022 and 2023 PGA National Player Development Award Nominee 2022 South Florida PGA Women's Player of the Year 2021 and 2022 GRAA Top 100 Growth of the Game Teaching Professional 2021 South Florida PGA Southwest Teacher of the Year 2021 South Florida PGA Player Development Award 2020, 2021, and 2022 US Kids Top 50 Instructor Honorable Mention 2020-2021 PGA Lead Cohort V 2019 South Florida PGA Southwest Player Development Award Her tour experience helps her instruction immensely, including course management and the mental aspects of the game. Heather teaches all ages and all skill levels from the beginner to the elite player. Heather's teaching philosophy is to provide every student with the tools to play their best and have more fun. Certifications include: - Aimpoint Certified - Flightscope Certified - Trackman Certified - Swing Catalyst Certified - US Kids Certified - PGA.Coach Certified - Superspeed Certified