quick coaching
Balance is Key When Hitting Shots from Uneven Lies
Anytime we face a shot that has an uneven lie, balance is key.
Hitting from an uneven lie shouldn't be a daunting task, so PGA Coach Sharon Fletcher from the Southern California section sent a few tips for you the next time you find yourself in a similar position on the golf course.
Ball Above Our Feet: Our weight tends to fall down the hill. You can alleviate that by pushing your knees into the hill. Play the ball in the back of your stance and remember always play the ball on the higher spot.

Ball Below Your Feet: "Ball below, butt back." That will counter the slope. You can also widen your stance slightly to lower your center of gravity. Play the ball forward in your stance because the ball tends to go to the right.

Uphill Lie: Balance is pretty simple on the uphill lie, but remember to play the ball in the front of your stance and hit up the hill.

Downhill Lie: Slide your back foot slightly to help your balance, play the ball in the back of your stance and hit down the hill.
Check out the full video at the top of the page & remember to visit
PGA.com/Coach
to find a PGA Professional in your area to start working on your game today.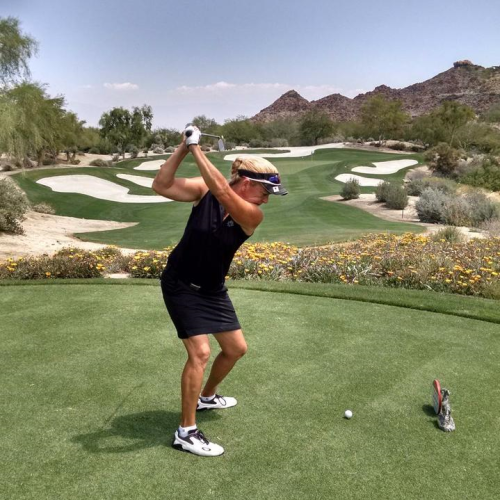 Sharon A. Fletcher, PGA
Member
---
Director of Player Development
Rancho Mirage, CA
Golf Scholarship UNC-Chapel Hill, Both Golf and Basketball collegiate player. PGA/LPGA Class A member in 1995, Taught golf in Germany & fluent in German. Worked for Mike Adams at PGA National, played on Futures tour, European tour and in PGA sectional and chapter events as well as LPGA T&CP events. Quarter Century member of the PGA. Teaching for 25 years. Work with Wounded warriors. Ran 3 marathons, won cycling events and trained and won German Shepherd Schutzhund trial.