quick coaching
Check Your Distance & Setup For Success with a Quick Tip from PGA Coach Jackie Riegle
How far away from the golf ball should you stand?
PGA Coach Jackie Riegle has a few quick checkpoints you can go through the next time you're on the range or golf course to make sure you're set up for success.
1. Stand nice and tall, hinge at the hips until the club comes to rest on the ground
2. You should feel like your arms are hanging naturally from straight down from your shoulders.
3. For a right-handed player, bring your left hand to the club.
4. If you have to reach for the club and your right shoulder rolls over, you're too far from the ball.
5. If you swing your right hand forward and it's in front of the club, you're too close.
Where your right arm hangs at the starting point is where you should set the club. If you're able to bring your hand to the club easily from that starting point, you're the correct distance from the ball.
Check out Jackie's full breakdown in the video below & be sure to connect with a PGA Coach like Riegle in your own area to take your game to the next level.
Find a Coach
Take the next step in your golf journey by connecting with a PGA Coach in your area.
Search Now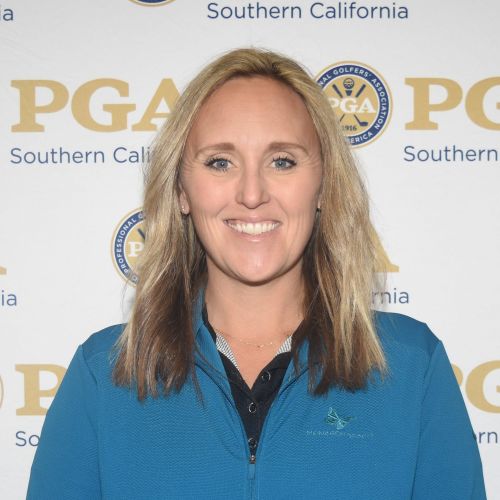 Jackie K. Riegle
Member
---
Director of Player Development & Marketing
Dana Point, CA
I have had the privilege of playing golf for over 30 years at junior, collegiate & professional levels. I served as Captain of the Varsity team at San Diego State years '07-'09 & played professionally on the Symetra-Road to the LPGA, Cactus, and Canadian Women's Tours years '10-'13. I was awarded as the Southern California PGA Women's Apprentice Player of the Year, 2015, the Metro Chapter Southern California PGA Assistant Golf Professional of the Year, 2019, and the Southern California PGA Player Development winner, 2020. I truly believe golf is for everyone and learning the correct fundamentals will set you up for lifelong success. My current offerings are – - On-Course Coaching from 8:30 am - 10:30 am Wednesdays, June 7, 14, 21 & 28 Thursdays, July 13, 20, 27 & August, 3 Wednesday, September 6, 13, 20 & 27 Tuesdays, October 3, 10, 17, & 24 Dates are subject to change based on access to the course. $150 per session - (4) sessions in each series (once-a-week sessions - $600 for the series) (4) students in each session/session - a proven method to improve your game - Golf for Beginners on Wednesdays from 4-5 pm. - Limited 1:1 coaching, please email me at jriegle@monarchbeachgolf.com for more information Please visit www.monarchbeachgolf.com/theacademy/ to learn more about my offerings & register. Thanks!