Advanced
Perform a Pre-Swing Check In to Improve Ball Striking
What is Justin Thomas doing with his pre-swing waggle? Listen to PGA Coach Jackie Riegle from Monarch Beach Golf Links as she explains the merits of this magic starter move of world's #2 golfer. 
Since roughly two-thirds of the swing takes place outside of our field of vision it can be tough to come up with some very tangible feels. In Jackie's drill, she explains "the why" behind Justin's pre-shot move and how it can help all of us. The most important key comes when she talks about two very specific themes. 
First, let's make sure that the club shaft is pointing straight back at hip high. We don't want to venture too far inside or outside that takeaway line. A second major mention comes when she describes how to hold the club in our fingers. She points it out on the backswing and through swing. Keeping the correct amount of grip pressure is very helpful in allowing the club to swing easily and not have us pull it around. 
Building your swing through this basic drill will really help you keep the ball striking consistent. PGA Professional Riegle realizes it's hard for all of us to really know where that club is at times and her drill gives a real tangible takeaway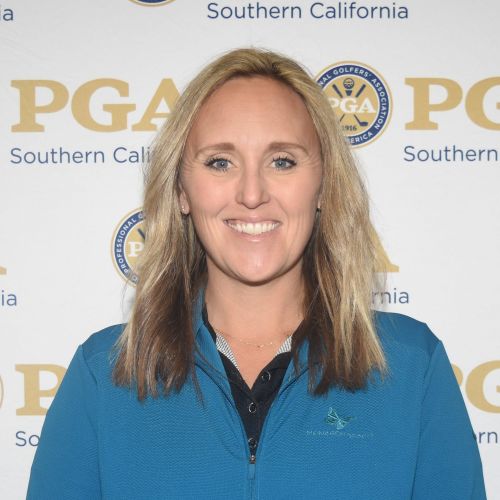 Jackie K. Riegle
Member
---
Director of Player Development & Marketing
Dana Point, CA
I have had the privilege of playing golf for over 30 years at junior, collegiate & professional levels. I served as Captain of the Varsity team at San Diego State years '07-'09 & played professionally on the Symetra-Road to the LPGA, Cactus, and Canadian Women's Tours years '10-'13. I was awarded as the Southern California PGA Women's Apprentice Player of the Year, 2015, the Metro Chapter Southern California PGA Assistant Golf Professional of the Year, 2019, and the Southern California PGA Player Development winner, 2020. I truly believe golf is for everyone and learning the correct fundamentals will set you up for lifelong success. My current offerings are – - On-Course Coaching from 8:30 am - 10:30 am Wednesdays, June 7, 14, 21 & 28 Thursdays, July 13, 20, 27 & August, 3 Wednesday, September 6, 13, 20 & 27 Tuesdays, October 3, 10, 17, & 24 Dates are subject to change based on access to the course. $150 per session - (4) sessions in each series (once-a-week sessions - $600 for the series) (4) students in each session/session - a proven method to improve your game - Golf for Beginners on Wednesdays from 4-5 pm. - Limited 1:1 coaching, please email me at jriegle@monarchbeachgolf.com for more information Please visit www.monarchbeachgolf.com/theacademy/ to learn more about my offerings & register. Thanks!