Advanced
Clump Putts Like Patrick Cantlay to Lower Your Scores
Great players like Patrick Cantlay have tremendous talent on the putting surface. Traveling week after week to different courses will test this skill. Whether it's a major championship or another tour stop, professionals of Patrick's caliber need reliable drills to help them adjust and practice their lag putting.
PGA Coach Blake Jirges from the Coto de Caza Golf and Racquet Club is demonstrating a great drill players like Patrick Cantaly use when they need to develop speed control on a new set of greens. Better yet, you can try this drill right now if you're near a putting green with just a couple items from your golf bag. All you need are five golf balls and two tees. As Blake demonstrates, place one tee one foot before the hole you select and another two feet past the hole. Try to putt all five golf balls in that zone between the two tees; in a row.
The Ocean Course has relatively flat green surfaces. Don't be fooled thinking they are easy to manage. They lack undulation in order to remain puttable in windy conditions. Keep an eye on the practice putting green this week. Those players who use a drill like this to learn the speed and wind will be your best lag putters in the tournament. Similar to them, try Blake's drill and you'll be a better "two putt" player too!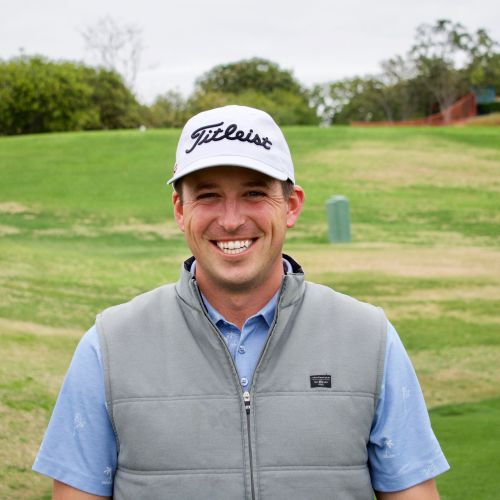 Blake Jirges
Member
---
Director of Player Development
Coto De Caza, CA
Blake Jirges is a professional golf coach who gets students to maximize their potential at Coto de Caza Golf Academy. Blake works with committed clients that want to get results and long term change rather than giving the typical golf lesson; constant struggle with changing your swing, no accountability and no consistent communication. He is different and is the complete opposite of your typical instructor. Blake genuinely enjoys each relationship and guides each player on its own individual journey to playing the best golf of their life. Blake understands the importance of long term development and can see results shift immediately. Immediately you ask? Yes! We have seen results change within a few sessions with all skill levels. Blake will lead you down a path that goes from point A to point Z in his long term development plan that is customized to you. He works on all skills of the game, focuses on you and your current struggles. Everyone has struggles in their development and Blake gets the struggles you have and flip them on its head. He makes you better understand your game especially when he coaches you on the golf course. The on course component is the main ingredient to our results based coaching platform. This is where the magic happens! The results are in all the students and Blake is the perfect person to bring them out. When Blake isn't at the course, working towards his players goals, he is with his beautiful family. Adventuring with his wife Cailee and two little girls, Adeline (2) and Juliette (1). They are often heading to Disneyland, finding new places to dine or going on long walks along the Fullerton hills where he resides. 2022 SCPGA Teacher and Coach of the Year 2022 SCPGA Metro Chapter Teacher and Coach of the Year 2020-2022 GRAA Top 100 Teachers 2018 US Kids Top 50 Master Teacher 2016-2017 US Kids Top 50 Teacher