Fitness
One Simple Smoothie Recipe to Get You Energized Before Your Next Golf Round
By Kayla Gutierrez
Published on
Smoothies are a great way to get a boatload of nutrients in easy, portable fashion. And we've got the perfect smoothie recipe to fuel your swing next time you're on the golf course. 
Whether you're a seasoned professional or a weekend warrior, this power-packed, delicious fruit smoothie recipe will give your body the boost it needs to conquer any golf course. Packed with a blend of vitamins, antioxidants and plenty of natural energy enhancers, this smoothie will keep you hydrated, focused and energized from pre-round to the 18th green.
And in honor of the KitchenAid Senior PGA Championship, we're bringing you a simple and easy smoothie recipe you can make at home. PGA Coach Thor Parrish, the founder of Thunder Performance in Fort Myers, Florida, recommends the following:
Ingredients:
1/2 banana

1 cup of spinach

1 cup of your choice of berries

1 tbsp of chia seeds

1/2 cup of protein powder or your choice

2 cups almond or oat milk
How to Make It:
Step 1 - Add berries, bananas and spinach to a blender.

Step 2 — Add chia seeds.
Step 3 — Scoop your protein powder and add to the blender.
Step 4 —  Lastly, add your milk to the blender with all of the other ingredients.
Step 5 — Blend mixture together until soft, creamy, and smooth consistency.
Step 6 — Pour your delicious and fresh smoothie and enjoy before your round!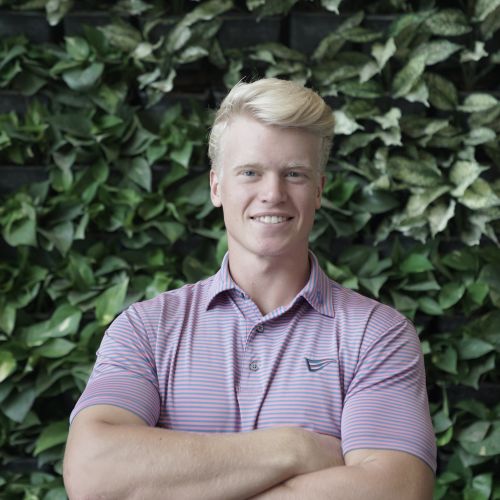 Thor Parrish
Member
---
Naples, FL
My name is Coach Thor and I am a PGA Professional Specialized in Teaching and Coaching, TPI Fitness Certified, and a CrossFit Level 2 Trainer! I run a lifestyle program called the Play For Life program. This program strives to create a community of golfers focused on their fitness, nutrition, and golf game. The program encourages people to work hard every day, with the goal to play as well as possible for as long as possible. Join the Play For Life community virtually or in-person today!