quick coaching
Adding Distance Off the Tee Like Cameron Champ Will Help Your Golf Game
By Brian Phelps
Published on
Cameron Champ fn the United States plays a shot from the 12th tee during the third round of the 2020 PGA Championship at TPC Harding Park on August 08, 2020 in San Francisco, California. Photo by Christian Petersen, PGA of America
As we sat and watched the end of an amazing PGA Championship, it was no surprise to see names on the leaderboard like Matt Wolff, Bryson Dechambeau, Dustin Johnson, and Cameron Champ.
The next generation of golfers are here and there is no debate if they are athletes anymore. If you have not heard of Cameron Champ, he is a 25-year old phenom that has a 129 MPH Club Head Speed with a 192 MPH Ball Speed — to put that in simpler terms, he hits it a long way.
You're probably thinking, 'It's great that Champ can hit the ball so far, but how does that help me?' Well, PGA Coach Brian Phelps has some advice on how you can add distance to your game and start shooting lower scores.
Balance is a Key to Power
It is so fun to watch Cameron Champ's swing. From his tempo to his effortless power, his elegant finish is always in balance. There is no doubt that his ability to generate speed is key to his power, but that power would mean nothing without the consistency and that comes from his balance. As I watch amateur golfers who are on the quest to hit the ball farther, the first step should be to start hitting the center of the club face. A great way to monitor your progress is to purchase Dr. Scholl's powder foot spray at any local grocery store or drug store. By spraying the powder on the face of your driver you can easily track your shot patterns and will see an immediate increase in ball speed.
Practice Power
Having 129-mph club head speed is not an accident. It is in part to being an unbelievable athlete but also the technology that is offered to today's golfers to help them train. You're probably not going to swing it 130 mph but that does not mean you can't increase your swing speed to give your own game a little boost. One of the best swing speed training aids in the game right now are Speed Sticks by SuperSpeed Golf. Increasing your swing speed is a commitment that will take hard work, but using a training aid system like SuperSpeed or finding a TPI Certified Power Coach in your area you can create a plan that will help you generate more distance by creating more club head speed.
Get Fit by a Professional
Okay I will be honest the first two options that I just gave you are hard work. Lucky for you there is a third way to pick up distance and hit it deep like Champ. Champ plays a G410 LST Driver with a Hazardous Green 65 Gram Tour X Flex shaft with 9 degrees of loft. I promise you that he did not pick that club up off the rack. He was fit by a Professional. If you want to pick up more distance without putting in the hard work of strength training or working on swing mechanics you can pick up yards by being fit by a Professional Fitter or your Local PGA Professional. With all the different combinations of driver heads and shaft combinations available, I can say with a very high level of certainty that you will not pick the correct driver, shaft or head configuration without the help of a trained professional and a launch monitor.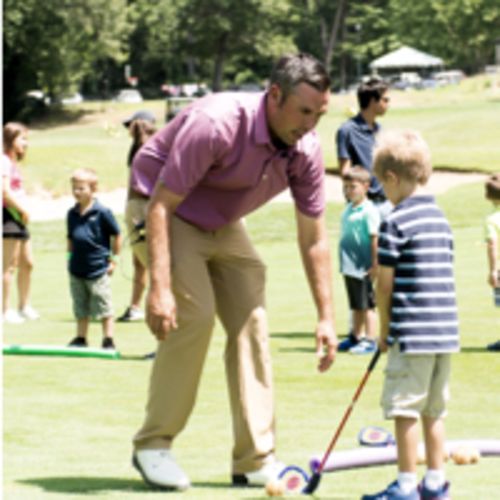 Brian W. Phelps, PGA
Member
---
Avon , CT
Brian Phelps grew up in Canton, CT and has a mother and father who were Physical Education Teachers and Coaches of multiple high school sports. Brian played baseball, wrestled, soccer and golf and was an All-State soccer player as a senior. As a young man Brian was introduced to golf at Canton Public Golf Course by a local legend Walter Lowell who was a pioneer in introducing juniors to the game of golf. Brian has decided to carry on the tradition of his parents and his roots of CPGC and specializes in introducing juniors to the game of golf by coaching kids using an athletes first mentality that will allow your junior to play golf for as long as possible with the most enjoyment possible.